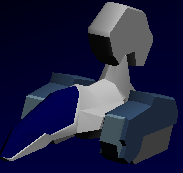 Technological breakthroughs in 2108 led to the design of this ship, a precursor to the ubiquitous
R-9A Arrowhead
and part of the
R-Series
. Though it's primarily designed for general space operations and asteroid-blasting, this ship would eventually be outfitted with a low-powered
Wave Cannon
. This ship has long since retired.
Description
Model Name: R-5 "High Power Spacecraft" Tugboat
Length: 16.0m
Height: 10.9m
Width: 5.8m
Weight: 29.0t
Used as a space-based tugboat. Because of it's variety of unit options, it can be used in many different situations. Eventually this unit will be equipped with a Wave Cannon, and an asteroid blaster can be equipped as one of the unit's options.
Parts
Engine Unit: A bigger engine, which is able to tow large naval vessels, can be equipped. The engine size can be changed to accommodate the weight of different vessels.
Sub-Generator: Used to recycle electric energy from left-over active energy, making the craft more fuel efficient.
See Also
The TP-3 Mr. Heli was also designed for asteroid-cracking.
Ad blocker interference detected!
Wikia is a free-to-use site that makes money from advertising. We have a modified experience for viewers using ad blockers

Wikia is not accessible if you've made further modifications. Remove the custom ad blocker rule(s) and the page will load as expected.