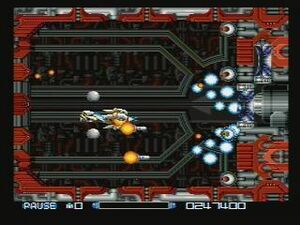 Prisoner is a gun wall mecha and is the boss of Giant Space Ship in Super R-Type. It can shoot energy beams.
History During the First Bydo War
After the Battleship Destroyed in R-Type, this appears on the 2nd bydo war, which means instead of that Battleship that let the core exposed, this one is modified... it will lead you inside to the battleship's core, this time it has shields and 4 turrets.
Ad blocker interference detected!
Wikia is a free-to-use site that makes money from advertising. We have a modified experience for viewers using ad blockers

Wikia is not accessible if you've made further modifications. Remove the custom ad blocker rule(s) and the page will load as expected.