Gouger is an occasional enemy in the
R-Type Series
, sometimes called Gougher or Gauper and is rarely referred to as Scorpio. Gougers are usually encountered while nested in organic areas. Once they detect an invader, they'll fly outward at a diagonal angle, hoping to catch whatever has disturbed their rest. Like many other animalistic
Bydo
, Gouger was a creature from another planet that the Bydo overran and horrifically corrupted.
Appearances
A biological weapon, its present look reflects the Bydo's manipulation of its original form. This weapon is a living creature. It was created when a Bydo body possessed an indigenous animal, and later evolved into this mutant form.
There's a nest of these in the Creature Cave.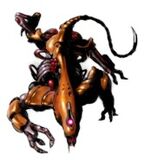 A dimension travelling organic weapon, evolved from a Bydo cell. Its internal organs and bone structure protrude through its skin and it will attack any moving object.
It's encountered in Stage 5 and called Gougher here.
B-Gup Gauper

Type
-Resilient Entity-
Date Designed
Unknown
First Appearance
R-Type
Status
In Use
Primary User
Bydo
Predecessor
None
Successor
B-Gup2 Gauper 2
Variants
None
Gouger appears as Gauper in this installment.
Living weapon twisted by the Bydo. Mutations led its bones and internal organs to project from its hide.
HP: 120
ACE HP: 142
Fuel: 45
Radar: 2
Speed: 2
Evade: 15%
Requirements:
Bio Weaponry
70 x Solonium
0 x Etherium
80 x Bydogen
Installation
Armaments
Weapon
| | | | | | | | |
| --- | --- | --- | --- | --- | --- | --- | --- |
| Name | Ammo | Power | Range | Hit | Use | Type | Note |
| Gauperush | 99 | 75 | 1-1 | 70% | ATK | Ram | A Gauper's specialized ram attack. Considered one of the most powerful Ram attacks. |
See Also
Comparable Bydo
Dogra, to which it bears a slight physical resemblance.
Ad blocker interference detected!
Wikia is a free-to-use site that makes money from advertising. We have a modified experience for viewers using ad blockers

Wikia is not accessible if you've made further modifications. Remove the custom ad blocker rule(s) and the page will load as expected.