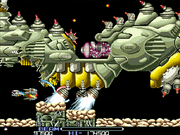 This is a regular part of nearly every mission in
R-Type
. The entire stage is usually dedicated to taking down a large, horribly be-weaponed
Warship
(or several). Pilots should expect lots of anti-air support craft.
Appearances
Pilots arriving from the Creature Cave will encounter this Warship, the core is exposed so you must destroy it, then proceed to the Frontline Base.
Here, pilots must avoid the collective firepower of many Warships, all of which are ultimately indestructible. An entrance will proceed you to the boss at near end. (Super R-Type.)
R-Type Delta does this twice, though the first time is against a very large ground-based attack vehicle. A broken-up version of the original Warship from R-Type makes an appearance in Stage 5.
This stage is called Battleship Raid here. Gains attack pilots trying to take down the Planet Buster Warship.
The entire stage, which is the second mission of Chapter II, takes place in a region of warp space. Commanders only have 40 turns to finish it.
Ad blocker interference detected!
Wikia is a free-to-use site that makes money from advertising. We have a modified experience for viewers using ad blockers

Wikia is not accessible if you've made further modifications. Remove the custom ad blocker rule(s) and the page will load as expected.