Bink, a monicker given by Earth forces, is a bipedal attack unit once built for troop transport. Repurposed by the Bydo, it's now capable of firing Bydo Shots. It will drop off the edge of a platform should it encounter one.
Appearances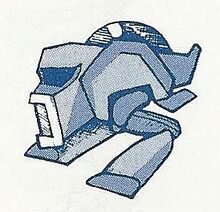 Bink is its Earth given nickname. It provides transportation for soldiers.
It's encountered in many different areas in R-Type, perhaps most notably in Encounter, Frontline Base, Transport System, and City in Ruins.
See Also
Comparable Craft
Ad blocker interference detected!
Wikia is a free-to-use site that makes money from advertising. We have a modified experience for viewers using ad blockers

Wikia is not accessible if you've made further modifications. Remove the custom ad blocker rule(s) and the page will load as expected.